This is somewhat tangential to my question in
https://www.laserscanningforum.com/foru ... 46&t=18309
, but still quite different:
We got a Faro Scene project that we imported into Cyclone Register 360 for some realignment and further cleaning.
We also need to export panorama images; we use the E57 export to ingest them into Benaco.
We observed some problems with that:
The original RGB image data does not seem to be imported correctly. Instead, a "point cloud rendering" is imported, and thus the sky is completely black (see first screenshot below), both in Cyclone preview thumbnails, and in the E57 export.
The exported image resolution is very low: Cubemaps with 1036 pixels side length (see second screenshot below in CloudCompare showing the image file details), resulting in 6 Megapixel outputs, even though Cyclone settings are configured to the maximum of 5120 pixel side length. In comparison the "High-resolution panorama export" feature in Faro Scene exports a much higher resolution of 200 Megapixels.
Is this a limitation of Cyclone (at which stage, import, export?), or a mistake in our workflow?
Is it possible to get high-quality images from Faro projects into Cyclone Register?
---
Screenshot showing problem 1: Point cloud rendering in Cyclone (below) instead of proper RGB image (above); note that 2 different directions are visualised in my equirectangular display here because Scene and Register export pano coordinate systems differently, but what matters is that one has the sky and the other one doesn't: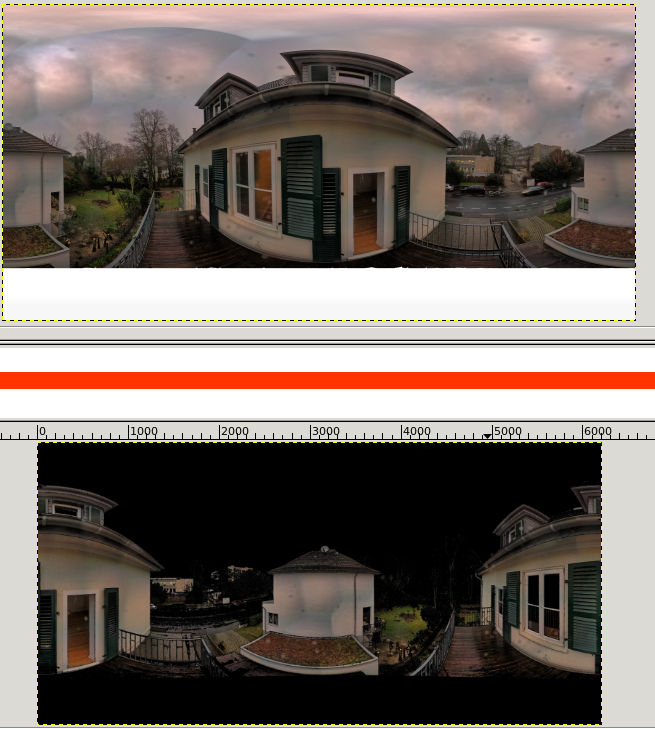 Screenshot showing problem 2 (low resolution):