The 3D-ICONS Ireland website is now officially on-line at
http://www.3dicons.ie
.
Over the past three years as part of an EU funded project (
http://www.3dicons-project.eu/
) have been busy scanning, modelling a nd making available online 130 monuments and buildings from Ireland, including decorated high crosses, the island monastery of Skellig Michael, the passage tombs of Knowth and Newgrange, and the ceremonial landscape of Tara are featured in this digital collection.
youtu.be/
A range of survey techniques were utilised during the course of the project including:
Close range capture - Artec EVA
Terrestrial laser scanning - Faro Focus 3D
Aerial laser scanning - Fugro FliMap system
During the course of the project a pipeline was developed to enable the creation of detailed on-line models with massively reduced file size, without the apparent loss in visible detail, with particular attention to the modelling of point-cloud data of irregularly shaped objects.
Example of low poly model of Bishop's Gate, Derry City Walls
There are additional images, videos and information of each heritage object. Please feel free to explore the website which will be updated regularly with new content as additional sites are surveyed.
Example of online model derived from terrestrial scan data of Loughcrew passage tomb, County Meath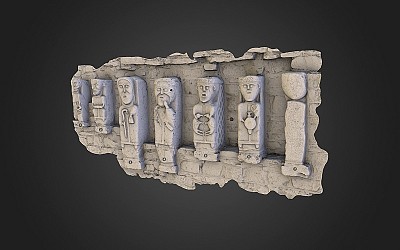 Example of model derived from close range capture, White Island Early Christian carved figures
3D ICONS is funded by the European Commission's ICT Policy Support Programme.
http://ec.europa.eu/information_society ... dex_en.htm
.